There is still room in our Summer Theater Education series, sign up for one or more of these fun classes today!
Below are some very special classes for actors of all ages to begin to develop new skills or continue to refine your stage repertoire.
Auditions and How to Shine
Join industry professionals for a fun and educational day learning tips and tricks for how to have successful auditions! Wear clothes you can dance in, and bring jazz shoes if possible.
Cost = $50 (pizza and drinks will be served)
Location = Hoover theater studios
Register HERE
Instructors:
Acting: Alicia Sanders, Bay Area director for over 70 local productions, current Dream Team Artistic Director for Starting Arts
Singing: Marcia Cope-Hart, acclaimed opera singer, vocal coach, and performer (member of the Phantom of the Opera San Francisco cast for 6 years and Las Vegas cast for 8 years in leading roles)
Dancing: Haleyann Hart, nationally recognized dancer and performer (former member of Silhouettes dance company that made it to the finals of America's Got Talent)
Intro to Acting – KIDS
This fun filled 1 1/2 hour introductory class is suitable for students ages 8-14, exploring their interest in theatre for the first time as well as those more familiar to the stage. In a safe and collaborative environment, students explore the concepts of Acting as well as Musical Theatre Style Movement and Dance. Designed to be fun and informative, students learn skills through guided exercises, improvisations, theatre games. While creating an environment of camaraderie and creativity, these activities stretch the imagination, sharpen senses, and build levels of awareness and concentration. Concepts of character, action and consequence, are explored thru short scene work as well. Students are also introduced to Musical Theatre Style Movement and Dance, and learn basic steps of Musical Theatre choreography. Students are asked to dress appropriately in comfortable stretch clothing and closed toe shoes. Join us for a fun and informative experience to build your confidence and give you the tools to succeed on and off the stage!
Intro to Acting & Musical Theater Dance
Ages 14 to adult
Meets from 5:30-7, Tuesdays/Thursdays, July 24 – August 10 (6 classes total)
Cost: $108
Taught by Liz Palmer
(see her bio here)
Register HERE
Join us for this Introductory class that meets two nights a week, (Tuesday and Thursday from 7/24-8/10) and offers adults and teens 14+ the opportunity to expand their imagination and explore the basic concepts of Acting and Musical Theatre Style Dance in a supportive, playful and safe environment, geared toward creativity and fun! This introductory course is suitable for students with or without prior experience and will be open to a limited number of participants, to ensure each actor receives an optimum level of instruction. Students attend Acting and Dance classes on separate nights during the week and asked to dress in comfortable stretch clothing and closed toe shoes to ensure comfort, safety and ease of movement.
The Musical Theatre Dance Class  begins with gentle stretches and simple warm ups to bring awareness into the body, increase range of motion, and decrease chances for injury. Once muscles are warm, students are instructed in a variety of Basic Musical Theatre Dance Steps, which will then be incorporated into short Choreographic Routines set to popular Broadway show tunes.
The 'Intro to Acting' Class provides a safe, non judgmental environment for the beginning students with a desire to expand their knowledge of the Basic Concepts of Acting. Actors gather at the beginning of class for vocal exercises and warm up activities that help students get out of their head and into their body, calm any stray butterflies, and foster a sense of camaraderie and connection. Students are then led in acting exercises, theatre games and improvisations that provide lots of fun and more than a few giggles. These exercises also boost confidence, enhance awareness and sharpen focus. Once students are actively looking at and listening to each other, Basics of Scene Study and Character Development are introduced and actors are provided with short scenes to work on together in class. No memorization is required.
Singing with Harmony
Meets: July 24-August 4, Monday-Friday 3:30-5:30 at Hoover theater.
Cost: $250
Vocal Director: Maureen Driggs
Fun summer choir, where middle school and above students can experience the excitement of learning to harmonize with a group. We will work to demystify harmony singing for singing enthusiasts!
Students will sing up tempo and current selections from popular music and Broadway shows.
Our 2 week session will culminate with a concert for the parents and friends on the final day.
Maureen has been a vocal/choir director for adults and children throughout the bay area for almost 20 years.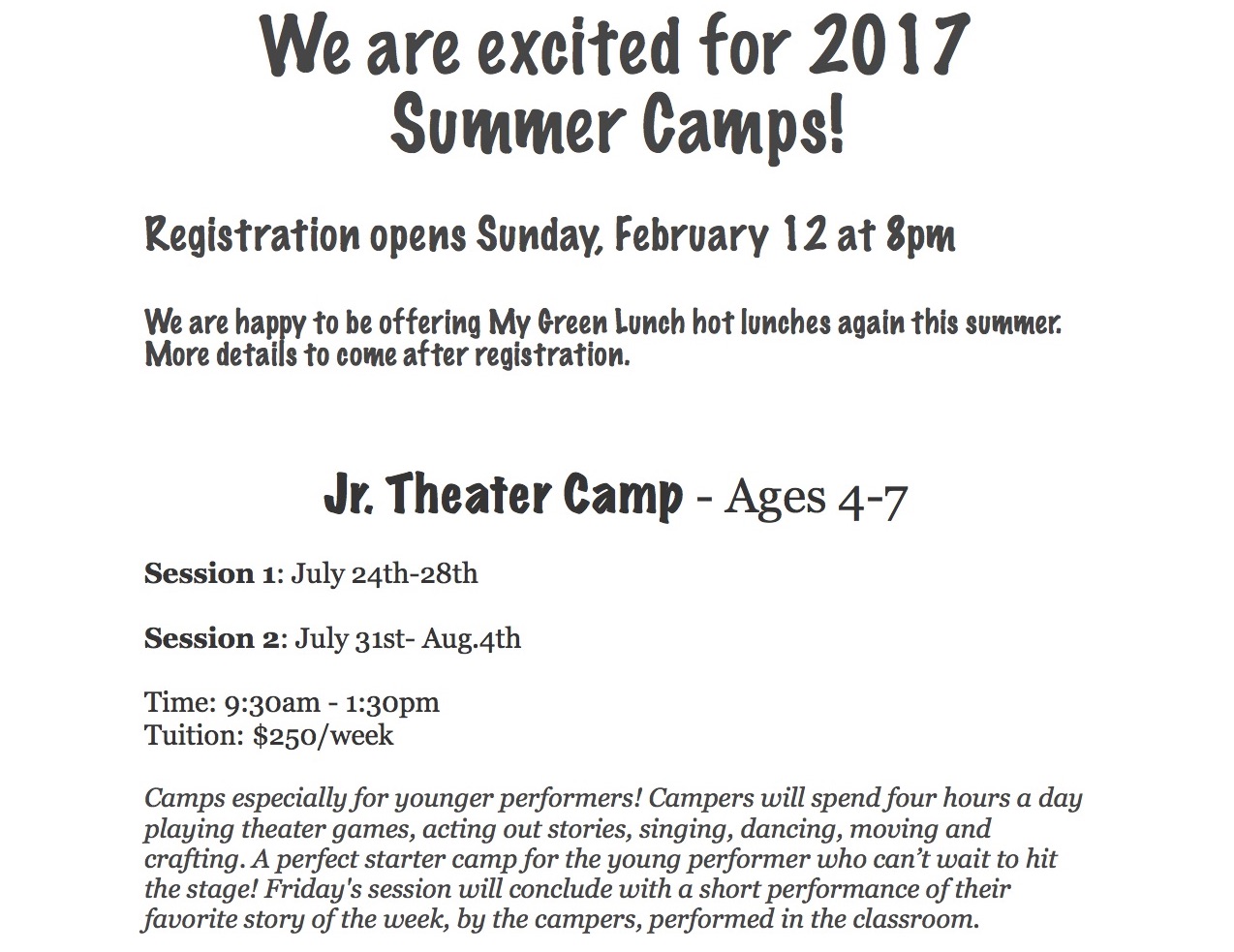 Jr. Theater Session 1 Registration HERE 
(Full, email Tanessa to be added to waitlist)
Jr. Theater Session 2 Registration HERE 
(Full, email Tanessa to be added to waitlist)
Just added!!! Session 3 – July 17-21
Jr. Theater Session 3 Registration HERE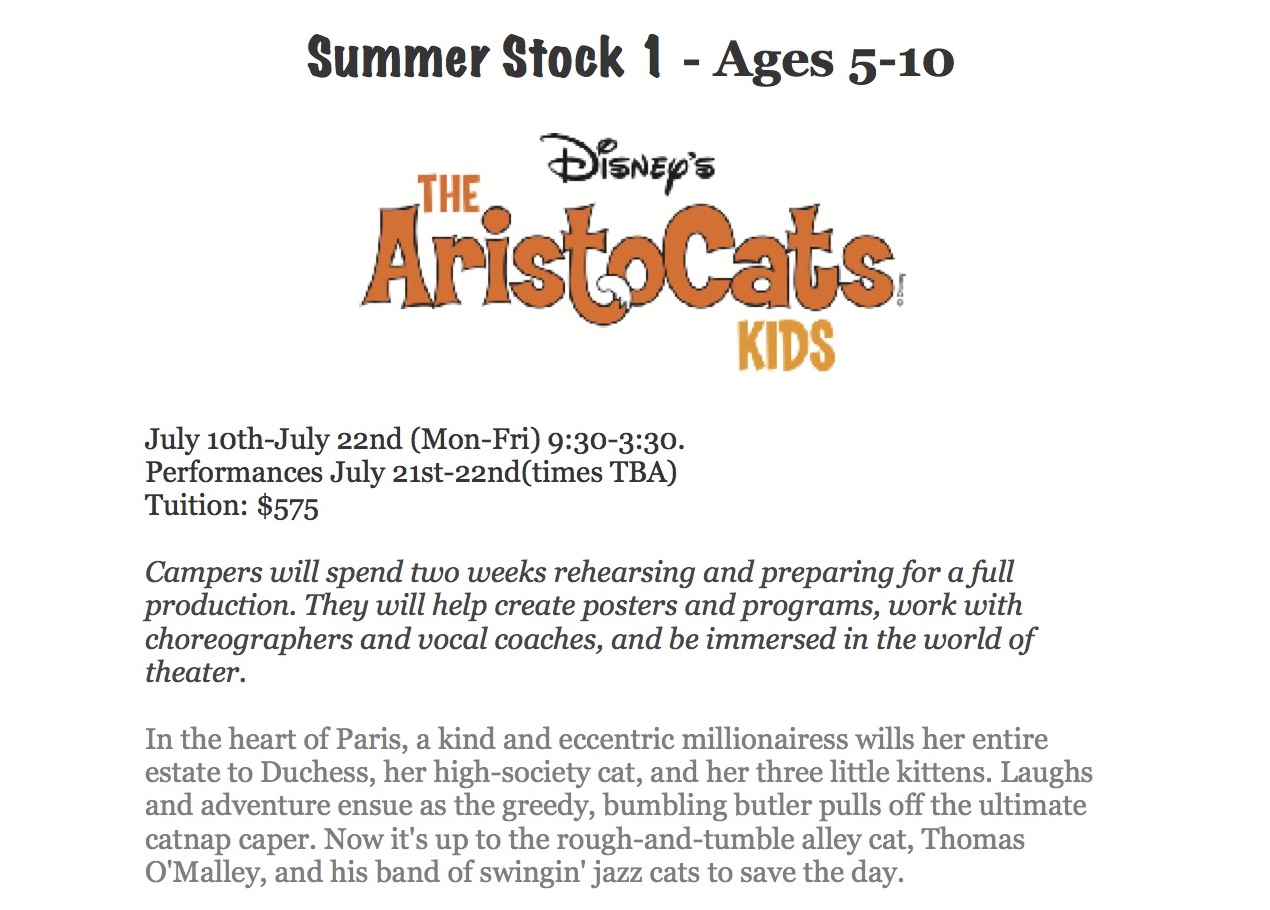 Aristocats KIDS Registration HERE 
(Full, email Tanessa to be added to waitlist)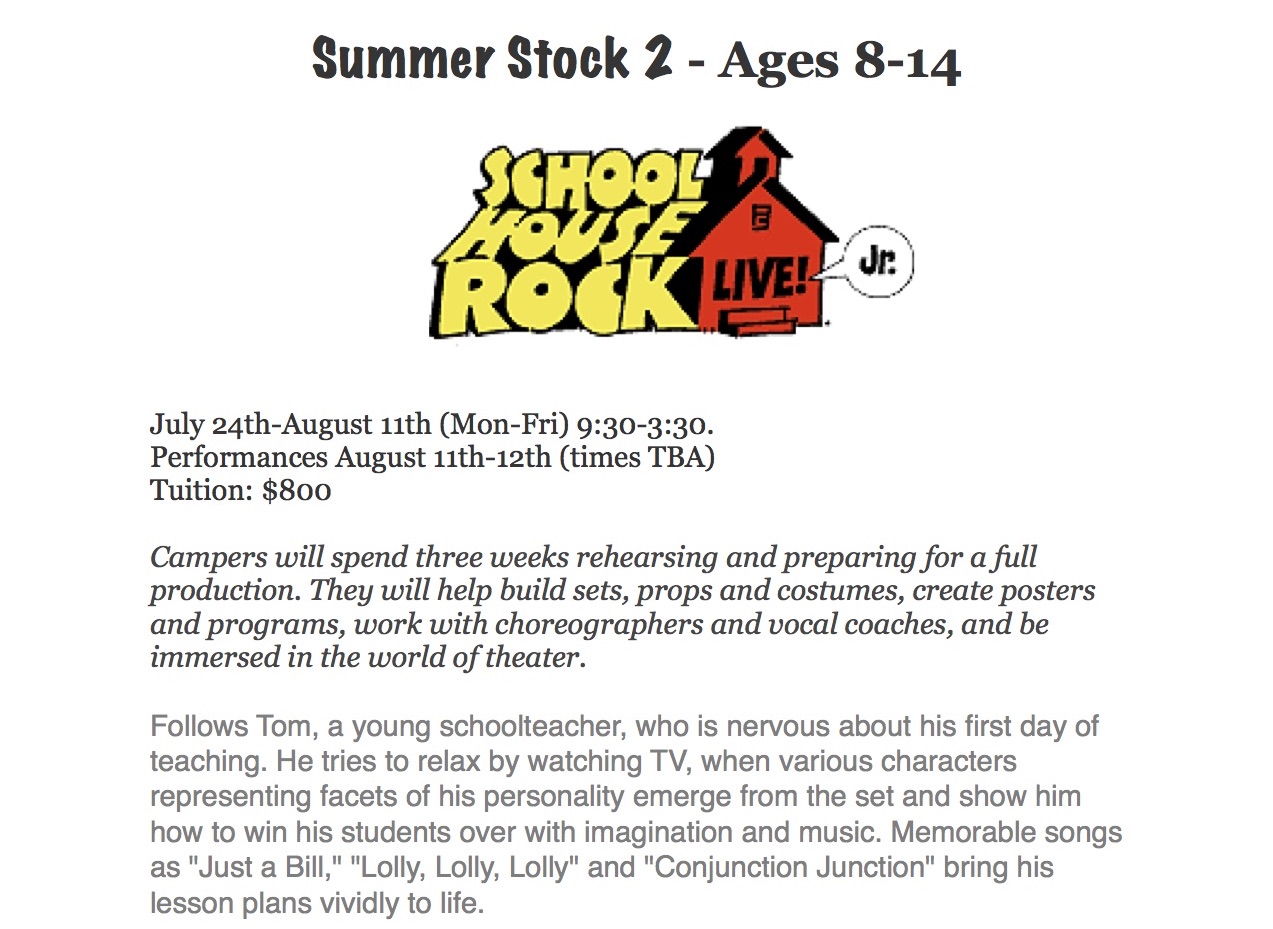 School House Rock Live Registration HERE (Opens 2/12 at 8PM)