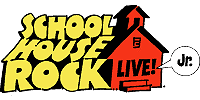 Online Registration Now Open  HERE
Open to actors age 4-12
Registration open to first 60 actors (there will be 2 casts)
Every actor who registers and auditions will be cast.
Directed by: Barb Galiotto and Katie D'Arcey
Rehearsals begin Monday, January 5, 2014 and are Mon-Thurs 4:00-6:30pm.
Not every actor is called for each rehearsal. Since this is a chorus show with no lead characters, rehearsals will be scheduled based on groupings/actor availability.
No rehearsals on Mon, Jan 19 (MLK Day) or Mon, Feb 16 (President's Day)
Performances: Fri/Sat/Sun, February 27-March 1, 2015 at Hoover Theater
Mandatory Parent Meeting to go over show details, policies, parent job signups:
Tues, December 2, 6:30-7:30pm at Hoover Theater.
Auditions: all auditions at Hoover Theater. Preferred audition times need to be provided at registration. Exact audition time for actor will be confirmed via email. Actors unable to make auditions must arrange for an alternate audition with Barb Galiotto.
Thurs, December 4:
4:00-4:30 (ages 4-8)
4:45-5:15 (ages 9-12)
5:30-6:00 (ages 4-8)
6:15-6:45 (ages 9-12)
Fri, December 5:
4:00-4:30 (ages 4-8)
4:45-5:15 (ages 9-12)
5:30-6:00 (ages 4-8)
6:15-6:45 (ages 9-12)
Needed for Online Registration:
Actor information (name, birthdate, allergies/medical conditions, t-shirt size)
Email contact for at least one family member
Rehearsal Availability-which day(s) actor is available/unavailable for rehearsal and specific conflict dates for days where actor is available but has a conflict (example: available Mondays except 1/22 for overnight trip). See calendar HERE.
Tech Week/Show Availability-same as above but for Tech Week and show dates.
Parent/Guardian information (name, cell phone, email address)
Audition Preferences – THREE choices need to be made
Actors may request to be in the same cast/chorus group with friends, but this is not guaranteed. Please have names (up to 3) ready to enter at registration.
Credit card for payment (checks by mail also accepted, must be received prior to audition)
Tuition
Includes: all dramatic/vocal/dance coaching, show t-shirt, script, music CD, costume use (shoes, tights, underclothes not included) and (NEW FOR THIS SHOW) digital access to show photos following performance. Tuition costs below do NOT include a $10 discount per actor if paying by cash or check (use promo code shrcheck on first registration page).
One Actor: $300
Two Actors from same family: $570 (use promo code shr2 on first registration page)
Three Actors from same family: $855 (use promo code shr3 on first registration page)
Participation Hours
For each participating cast member, 15 hours of adult volunteer work is required (25 hours for two cast members/35 hours for three). If unable to fulfill hours of participation, a buyout option is available at $150/$250/$350. Jobs will be announced and signups taken at Parent Meeting on 12/2/14.
Audition Workshop (Optional)
Does your actor want to put their best foot forward? Katie D'Arcey's audition technique class will have actors ready to go for their next audition. Class will include song coaching and a dance combination. Actors will also get tips on how to deal with nerves to feel more confident when auditioning.
$25 fee per actor
Thursday, November 20 at Hoover Theater
3:30-5:00 – Ages 6-8        5:30-7:00 – Ages 9-12
Min 5 actors per session/Max 12 per session
Register Ages 6-8 HERE, Ages 9-12 HERE
Show Overview
The Emmy® Award-winning Saturday morning educational cartoon series and pop culture phenomenon is now the basis for one of the most fun and easily mounted musicals ever to hit the stage, Schoolhouse Rock Live! JR.
A loose, revue-like structure allows for a great deal of flexibility in staging and casting in this energetic musical, which follows Tom, a young school teacher who is nervous about his first day of teaching. He tries to relax by watching TV when various characters representing facets of his personality emerge from the set and show him how to win his students over with imagination and music. Memorable songs as "Just A Bill," "Interjections" and "Conjunction Junction" bring his lesson plans vividly to life.
Follow Playful People Productions on Facebook HERE

FAQs
Q: Why did tuition increase?
A: While we try to keep our tuition competitive with other theater companies, we did have to raise it for this show. Our tuition cost stayed the same for some time while the company experienced increased staffing costs, the fact that we are now including digital access to show pictures for all actors, and the increased overhead costs for online registrations and payment.
Q: The registration program won't let me use two promo codes (for multiple actors/paying by cash). What do I do?
A: Use the shr2 or shr3 promo code for multiple actors, then take $10 off for each actor when you write your check. We'll adjust things on our end and all will be good.
Q: I am having problems with the registration program. Who do I contact?
A: Contact our Director of Communications, Karen Bellantoni.
Q: I need to work out a payment plan or ask for a full/partial scholarship. How do I do that?
A: Please contact our Executive Producer Barb Galiotto BEFORE registration to work out details. We don't want to turn families away for financial reasons and will do our best to make it work!
Q: I have/know of a teen who is interested in being an Intern. Who do I contact?
A: Please contact Barb Galiotto.