Alice in LaLa Land
Show Times:
Thursday, July 30th – 7pm
Saturday, August 1st – 7pm
Tickets On Sale Now: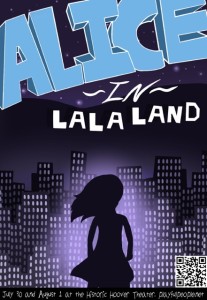 Welcome!
So you want to play? You've found the right place!
We welcome all actors, ages 14 and up, to join us for the creation of an original musical based on the timeless story of Alice in Wonderland by Lewis Carroll. During the month of June, we will be writing the show and choosing the music. We will use existing popular music from the 1960s to today, music that is intimately connected with the idea of Hollywood and California.
After the July 4 holiday we will begin rehearsing the show, moving into the theater for tech week on July 27. Participants have the option to engage in one or both portions of the process. That is to say, you can help workshop the script, perform in the show, or do both. Participating in the workshop portion is not required for audition and performance.
Show Concept
A young girl with big dreams, Alice, feels stuck in her boring, small town life. Catching a glimpse of an intriguing city slicker agent, she follows him and lands in an alternative Los Angeles, one filled with show business archetypes and California cliches.
Finding the world bizarre and unpredictable, Alice is nonetheless intrigued and determined to succeed. She bounces from situation to situation, meeting and triumphing over many an odd character. From the aggressively "organic" mean girls to a hot tub birthday party, from Mommy Dearest to America's Sweetheart, Alice meets them all. And what is that scary, yet oddly beautiful mountain lion up to, anyway?
Workshop Process
When creating a show in workshop, we first determine the parameters. I've given some to you: the show is set in Hollywood, the music is California-themed. Others we will decide collaboratively. For starters, we can choose which characters will be included. The Disney version of the show that the kids are doing, for instance, does not include the character of the Jabberwocky or the Walrus and Carpenter. We could choose to include those, and choose to exclude others. It's all about building a story.
Once we know which scenes of the book we plan to include, it's time to start writing and choosing appropriate songs. As much as possible, I would like to stick to the order of adventures as presented in the book.
The flip side to choosing which scene from the book best fits is deciding which California stereotypes we want to include. There are so many, and at our first session we will brainstorm a bunch of those and see how they relate to Carroll's characters.
We want our show's run time to be around an hour and fifteen minutes. That means we will not be able to include everything. It also means most of our songs will be shortened. A minute and twenty seconds of awesome singing and dancing is more powerful than three full minutes that drag on for the audience.
I do ask that if you plan to workshop that you read or reread the book. There are free versions available in the Kindle store. Also, you want to make a list of songs that really speak to you and that work with our theme. We will all brainstorm songs to go with each scene. Once we have a whiteboard full of ideas, I will take them home and choose which best exemplifies the mood we are trying to create. The next task is to secure rights to perform the songs, and it is easier to do that with some catalogs more than others. Our ability to secure rights will definitely influence our song choice.
The actual writing of the final script can happen in small groups. An individual or group can take a scene and draft it out. In the end, I will edit and string together the scenes into a coherent whole. Again, a half-page of punchy dialog is much more fun to an audience than too much. Our goal is to have a finished script by June 22.
Workshopping the script is free. Your commitment  to the group is to bring your good energy, your brilliant ideas, and your open heart to the process. Be willing to share your great thoughts, and be willing to let them land on the cutting room floor if it turns out that they just won't fit in the final product. If you sign up to write a scene, those will be due by June 17, which is a firm deadline.
Show Production
Our summer stock shows are a little different than our regular season shows. Participants in the mash-up will have the same expectation as summer stock students. Participants will be responsible for all theater functions, including (but not limited to):
ushering
ticket sales
concessions
set creation
costume creation
stage crew
All actors will sign up for a job, and be expected to execute it to the best of their abilities.  If they cannot work outside rehearsal, they can buy out for a fee of $150 for one actor, $250 for two actors, and $350 for three actors.
In addition, we expect our participants to maintain the Playful People Respect Agreements at all times. Though we do not have young children in this cast, we do have teens, and participants of all ages agree to being part of a safe and supportive community.
Set design
The set design for this show will be old school. We may use pieces created by the summer stock child actors, but most of our set will consist of periactoids. The look will be very psychedelic and iconic. Want to share your vision? Then sign up to help with this important aspect of the show!
Production Participation Tuition
$225 per person for the production. There is no cost for helping to create the script only.
In addition to the tuition, actors will incur additional costs, as each individual is responsible for purchasing his or her costume.
Important dates:
Workshop dates
Location TBA
May 26-June 18
Mon Tues Thurs
7-9 p.m.
Audition date
Hoover Theater
June 17, 7- 9 p.m.
Rehearsal times and location
at Mulberry School, 220 Belgatos Road, Los Gatos, CA 95032
7-9 p.m.
Mon Wed Thurs
July 6-24
Tech Week (at Hoover Theater)
7-9:30
Mon Tues Wed Thurs
July 27-29
Attendance at all tech week rehearsals is mandatory.
Performances at Hoover Theater:
Thursday July 30, 7:00 pm and Saturday, August 1,  8 pm.
Contact Info:
Sara Tavernise, Director
sara@whymommy.us
408.483.2019
Barb Galiotto, Executive Producer
barb@galiotto.com
408.497.9983